We will explore problem solving skills, milestones and creative problem solving examples for kids that you will have fun trying with your little one.
Let's Define Problem Solving
It's simple. Problem solving is a skill set used by your baby that incorporates his or her ability to perceive, think, and gain understanding about his or her world; including remembering and decision-making. All of these problem solving skills are also known as cognitive skills.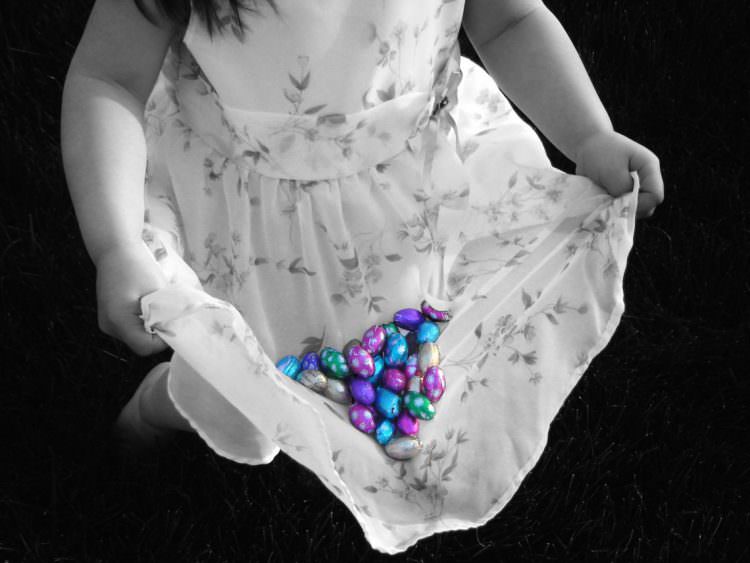 Purposeful Problem Solving
Problem solving is a skill that begins early in your baby's life. But there is a difference between simple problem solving and purposeful problem solving. Let's explain.
Purposeful problem solving involves an intended action to achieve a desired result. Your child will use a specific problem solving approach to achieve this. They may include:
Manipulating objects
Learning about different properties of objects
Learning how to get things done in the easiest way
Overcoming Obstacles
Overcoming obstacles is a necessity in becoming good at problem solving. There are times when you will be convinced that your child is a genius with the clever ways he can overcome the obstacles that stand in his way!
Everyday Problems and Solutions
Make way for your little creative thinker! Overcoming obstacles in clever ways is what your little one does best. These clever ways are not always verbal (especially at a younger age), it is important to practice nonverbal problem solving activities. So, what will your baby's creative problem solving abilities look like? Take a look at two examples of problem solving life skills activities:
Life Problem: Your child sees her bottle sticking out of the diaper bag that is slightly out of reach.
Solution: Your child pulls at the strap of the diaper bag to pull it closer to her.
Life Problem: Your child sees his favorite toy on the other side of the laundry basket.
Solution: He crawls around the laundry basket to get his toy.
Understanding Cognitive Development
Cognitive development is your child's ability to communicate, think, and problem solve. As your child grows, his or her brain is growing as well. As your child's cognitive skills become more developed, the more he or she will begin to explore their world and test things in his or her environment. Understanding your baby's cognitive development is key to chosing the best activities to help your baby master his or her problem solving skills.
Resist Coming to the Rescue
One great tip for parents is to not be so quick to come to the aid of your child when he or she faces small everyday problems. By allowing your baby the time and space to figure things out for himself, you help him build confidence and grow his ability to problem solve.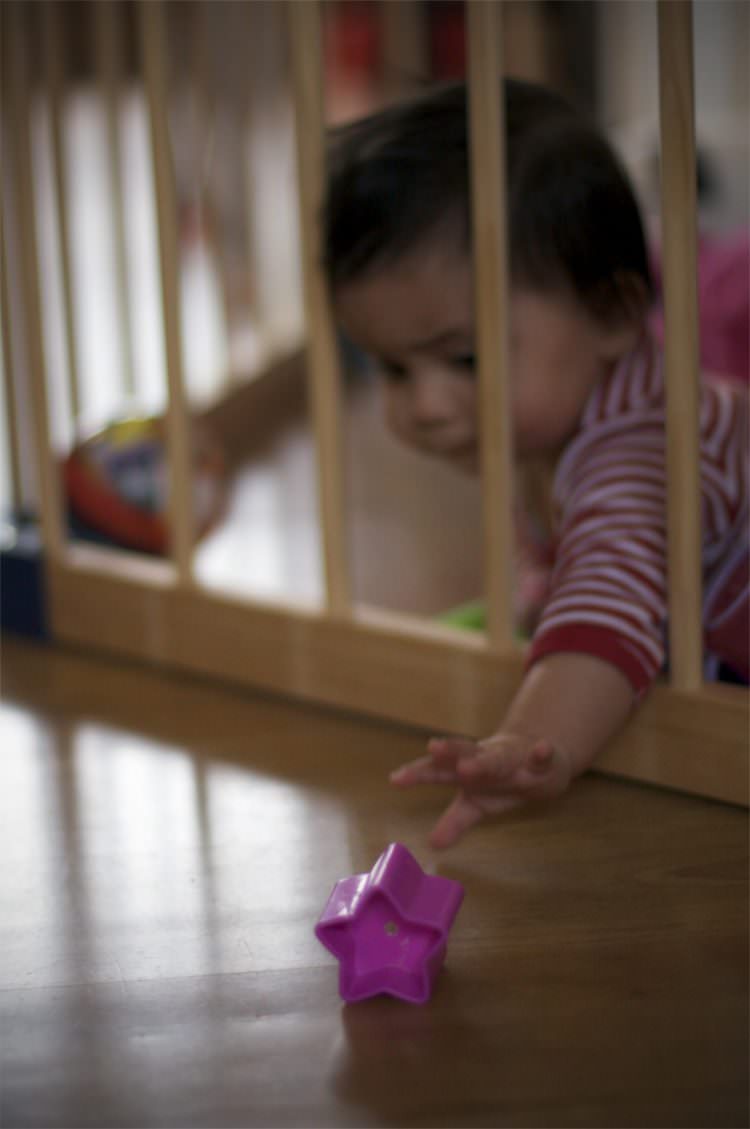 Tips for Easy Creative Problem Solving Activities
We at ADAM & Mila wish to provide practical and easy to apply ideas for fun and educational activities. There is a variety of easy brain boosting activities to stimulate your baby's brain, increase his or her critical thinking skills, and help your little one become a great problem solver. There are a lot of activities that you can do with your child.
Problem Solving Activities For Infants
Sing to your baby
Play music
Read to your baby every day
Problem Solving Activities For Toddlers
Play peek-a-boo
Play hide-and-seek with objects
Play with puzzles, blocks, or drawing materials
Problem Solving Activities For Children Age 2-3
Sort objects by color, size, and shape
Help your child "write" his own book by writing his words while he or she draws the pictures
Teach the words; on, under, behind, around by playing games like Simon Says
Provide a "dress-up" box for your child for imaginative play
The Milestones of Developing Methodical Problem Solving Skills
Below we have collected all the milestones your child will go through month-by-month as he or she acquire these critical problem solving skills.
That Second Reach
Development Milestone emerges from age 5 to 7 months.
At about 5 months old, your child will begin to purposely reach for second objects while still holding on to the first one. For example, while holding one toy in his hands, he may use his other hand to reach for a second toy. He does not, however, have to necessarily pick it up.
Works for It
Development Milestone emerges from age 5 to 9 months.
Now, your baby's movements start to demonstrate clear purpose, intention, and persistence while repeatedly reaching for objects. This is when your child will try and try again to get that ball he really wants that is out of his reach. He may reach, stretch, or even wiggle to get it.
Drops Object to Pick Up New Object
Development Milestone emerges from age 6 to 8 months.
At this age, if your little one is holding an object or toy in each of her hands, she may drop one of them to pick up a new object without even thinking about it. She isn't yet purposefully trying to think of a way to hold all three, which is why she will drop one toy to get the new one.
Reaches for New Object While Holding Two
Development Milestone emerges from age 8 to 10 months.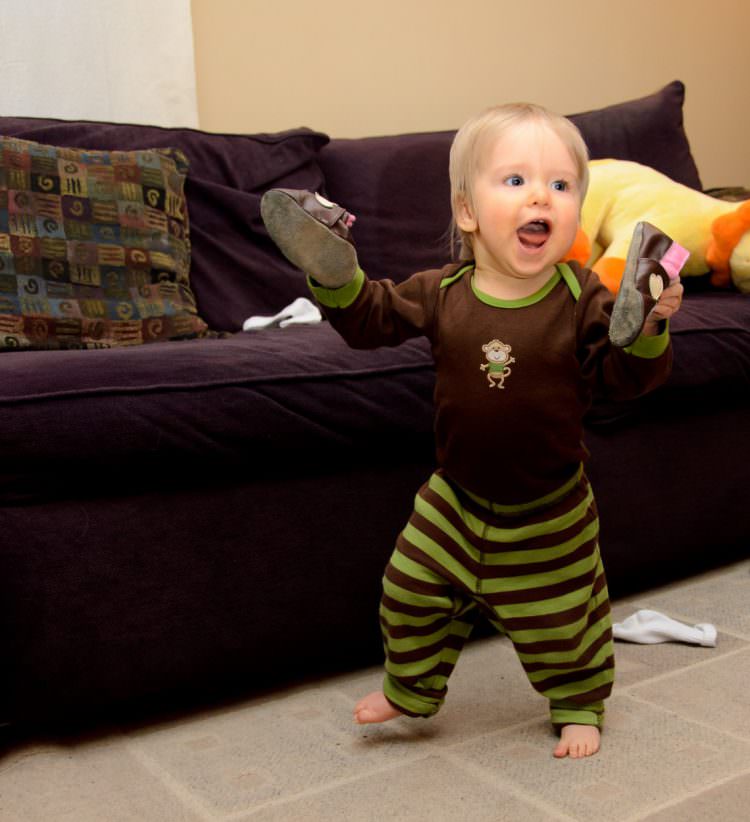 Unlike the stage before, this time when your child is holding an object in each of his hands, he will attempt to pick up a third one without dropping the ones he is already holding. There is a thought process of how to hold the third item, whether it is by adjusting his grasp on the current two items, reaching with his mouth for the third item or coming up with another way.
Pulling It Closer
Development Milestone emerges from age 8 to 10 months.
Now, when your child sees his favorite toy resting on a towel or sheet out of reach, he will simply purposely pull the towel or sheet with the toy on it closer to him. Observe this milestone on your child by simply placing a toy on a towel on the floor and see what your child does.
Overcoming Obstacles
Development Milestone emerges from age 8 to 11 months.
Nothing is going to stop your little one from getting to the toy he wants! Not a box, laundry basket, or pillow. At this age, your baby will figure out a way to get that toy he wants, even if he has to push, reach above, or move around something to get it.
Getting in Motion to Grab an Object
Development Milestone emerges from age 9 to 12 months.
Now, your child is ready to crawl, creep, scoot, roll, climb, or walk to get to that toy she wants! You can test to see if your child has mastered this milestone by placing a toy that has multiple pieces like a stacking toy around the room. Place the base of the stacking toy by your child and the rings around the room and watch as your child problem solves to find the rings and bring them back to the base.
Pulling Toy Horizontally by a Handle or Strap
Development Milestone emerges from age 9 to 12 months.
This stage shows your child's understanding of how two objects are connected and how one can influence the movement of the other. So, you may see your child pull at a shoestring to get her shoe or the strap of a diaper bag to get her bottle or sippy cup.
Pulling Toy Vertically by a Handle or Strap
Development Milestone emerges from age 13 to 15 months.
Now that she has mastered pulling horizontally at a string or strap of an object to bring it closer to her, she will begin to pull at strings or straps that are hanging to pull an object up to her. For example, she may pull a string or plastic chain link of a toy dangling from her high chair.
Flips Over Container to Get to Small Objects
Development Milestone emerges from age 12 to 18 months.
When trying to get at a small object inside of a container, your baby will likely try to get at it by poking his finger in it or shaking it. However, after showing him how, your baby will flip over the container and begin to shake it until the desired object falls out.
Simple Problem Solving with Tools
Development Milestone emerges from age 17 to 24 months.
At this stage, your child will use an unrelated object to get the object she actually wants. For example, she may grab a nearby stick (or spatula) to get her favorite toy out from underneath the couch or she may invent other ways to solve her problem of getting her favorite toy out.
Turning Doorknobs
Development Milestone emerges from age 21 to 23 months.
Now, the fun begins (depending on your idea of fun) because your toddler has figured out that he or she can get to the other side of the door by simply turning the doorknob. This means you need to do another round of baby proofing. A door is no longer an obstacle.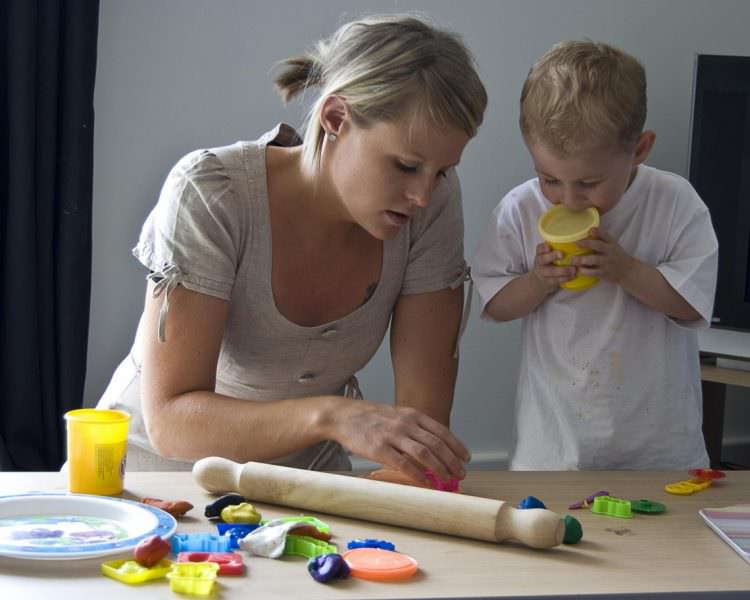 These are some of the many milestones that your child is mastering as he or she is growing from infant to toddler. Your baby's ability to problem solve is an important one. It can also be a lot of fun to help them along the way as that skill continues to develop. It is important to note that every baby learns at his or her own pace. So, don't worry if your baby isn't doing what your neighbor's kid was doing at that age. Always speak to your pediatrician for serious concerns. Otherwise, try out some fun activities with your baby that we know will benefit both you and your child. Oh, and remember to have fun!
We hope that this article was helpful to you. We would love to know what you think! Please share our article with others who might benefit from it.
Read our complete guide to Cognitive Development Milestones
Explore more Baby & Toddler Learning Activities
Do a friend a favor! – Share this great resource with others who could benefit from it