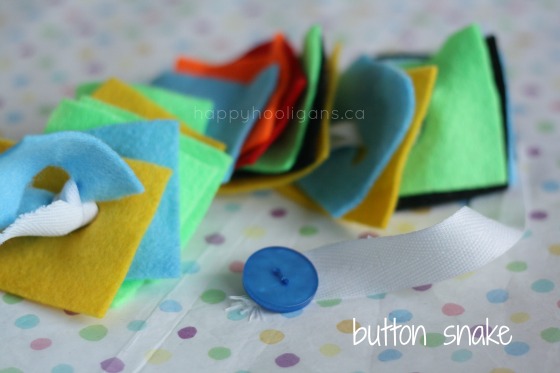 Making a button snake to help the toddler learning to pass a button through a button hole.
Activity Details
Time needed to perform the activity: 5 to 15 minutes
Suitable number of Children: Best with just a single child (Parent participation not necesary)
Suitable age: 16 months to two years old.
Location: At Home
Items used: Button, Coloured felt, Needle, Ribbon, Scissor
Developmental Milestones supported by this activity: Putting Tiny Objects into Tiny Openings, Using Hands Cooperatively
Tags: Homemade Toy
This activity was created by Happy Hooligans .
Click here to view this activity
How do you like this activity?
2 People Like this Activity!, cast your vote to help this activity feature higher in our rankings.